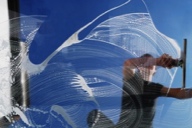 For a clean change try 2 dolphins!
With more than 20 years of experience, no window washing company in California can claim a greater depth of expertise for effective problem-solving and consistent delivery. While the size and scope of our projects has expanded consistently over the years, we have never lost sight of our core values:
• Customer service
• Continual innovation
• Seamless delivery
• Attention to detail
We continuously strive to meet and exceed product quality and service expectations of every customer, to assure satisfaction we follow-up with you directly for specific requests.